History of the Gallery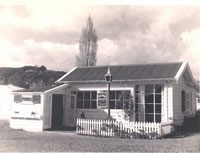 The Yearbury "Colonial Gallery"
Russell's Colonial Gallery was first established in 1967 by artists Jim and Pauline Yearbury who worked and sold paintings, pottery, sculpture and handcrafts from a small wooden building on the corner of York and Chapel Streets. In 1976 the building was demolished and replaced by a tavern where the present tavern car park is now.
Marsha Davis says Pauline (Kahurangi) Yearbury was the first Maori woman artist to depict Maori. Pauline designed and Jim incised wooden panels. Pauline also published "The Children of Rangi & Papa - The Maori Story of Creation" in 1976. She died in 1977 and a significant collection of her artwork is held by the Russell Museum through bequests from Jim Yearbury and Judith Anderson.
- Acknowledgements: Russell Museum and Marsha Davis.
Building at 15 York Street
Reportedly, John Harold Garland, photographer, and his wife came from Auckland in the 1940s bringing with them the lamppost shown in the Yearbury's gallery photo above. They set it up outside the house they built on the present Gallery site at 15 York Street. The Garlands sold the property in 1951 to Lex Williams who must have built the first part of the present building at that time. The lamppost is now outside the Russell Museum having been donated by Jim Yearbury.
Peter Arnold Sketches Colonial Scenes
In 1982 pencil and wash artist, Peter Arnold, bought the building and resurrected the Colonial Gallery business on the new site with a very popular series of drawings of New Zealand colonial architecture and scenes. Prints of these works remain an important exclusive resource for the present Gallery.
Paul Kooy Paints at his Gallery
Dutch immigrant, industrial chemist/engineer and self-taught artist, Paul Kooy, bought the building and business in 1995 and continued to operate both gallery and artist's studio whilst living there.
The Swedish/Dutch/American Connection
By 2000 the Colonial Gallery business had been bought by immigrant couple Catharina Bruhn and Attila Zaborszky from Sweden and Holland while the building was owned by Americans Chris Aronsen and Terry Ewbank who now own and operate "Just Imagine" further down York Street and, coincidentally, the property where the Yearburys' original Colonial Gallery stood.
Colonial Gallery to South Sea Art
In 2003 South Sea Art was established by Alan and Pat Wilkinson and Janet Planet to buy the Colonial Gallery business. Pat painted watercolours and Janet operated the business which she knew well from having previously worked there with Paul Kooy.
In 2009 Alan and Pat also bought the building and commenced a major project to extend and renovate it. Alan tells his version of that story here.