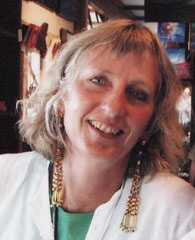 Edith Sharpe, R.I.P.
Edith, a longstanding friend and employee of South Sea Art Gallery, passed away Sunday 9th January, after a courageous battle with cancer. Edi was one of those employees who would turn up for work with wet hair and copious bags of creative things to do in case it was slow(?) and always with a smile on her face.
While she was my fairy cleaner-upper I could always find my desk miraculously tidied into a semblance of order. She put it down to me being the Manager with soooo much to do and her being born in the year of the Rat, which gave her the ability to compartmentalize, especially the paperwork.
In the mid 90s when I was asked to produce the Wearable Arts show in Russell, Edi would produce a costume that would win or be very creative. Her creativity was inspirational as we travelled to Whangarei or Kaitaia to compete in the Wearable Art sections, (with me as the model) which proved many times to be successful!? Her aim was to enter Nelsons prestigious event WOW, which she achieved.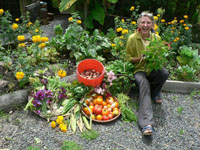 Edi was a community minded soul who worked with the mentally challenged, encouraging them to experiment with their art which we exhibited one year upstairs at the Gallery. The group came in two minibuses, and for those who could manage the spiral staircase, they went away beaming with pride. Her mission to create a special event on Christmas Eve as Santa & Ms Claus, with the local Mr Mac aka Doug the Digger, reached it's 10th anniversary this Christmas gone. Her special friends at MINDS (Midway in the North Day Services) would make the presents for Santa to hand out to visitors and children whilst Edi & Santa promoted good cheer and goodwill on the streets of Russell.
Edith's loyalty, creativity and friendship will be significantly missed in our new Gallery.
Fly free my friend.
Janet
Coming Events

Exhibition
... coming very soon - next week!