Building Renovation and Extension - Story of a Project
This was a big project and is quite a long story, told unashamedly from my personal point of view as owner. Errors and omissions are mine, as are any faults or due blame. Names are omitted to protect the guilty.
- Alan Wilkinson, January 2011
Design

At the beginning of 2009 we began planning to extend our Gallery. Built in 1951 by photographer John Garland it was subsequently residence and small gallery for artists Peter Arnold, whose pencil drawing prints we still sell exclusively, and later Paul Kooy. We wanted a better work area for picture-framing, more gallery and storage space, and a bigger residential apartment separated from the business and public areas.
Our architect, Otto Suri, drew a concept which retained the character and shapes of the original distinctive structure - almost an icon in York Street, though hardly "historic" in Russell's context. Although visually dramatic, the low, steep pitched roof section above the main gallery was a constraint to a workable living space above, which Otto resolved with three dormers on the eastern side away from the road.
Otto angled the new wing running back behind the existing garage along the southern boundary to maximize the garden courtyard. The roof matches the existing high section in two staggered segments to make best use of space. The wing is built over a new underground water tank rising high enough to survive the level of the 2008 March flood without contamination.
Moving the residential apartment wholly to the second floor released the rear of the building for gallery and framery - demolishing all the internal walls in the old building on both levels and reconstructing them from scratch.
Resource Consent
Scarcely a building frontage on York Street is older than me (three exceptions are far away at the Wellington Street corner) yet our street rejoices in a "Heritage Precinct" planning designation. So another bureaucracy, the Historic Places Trust, gets effective veto rights over anything we do that might damage "heritage values". Enquiries reveal that absolutely anything may be designated "heritage". Neither the law nor the Trust contains anything more than vague hand-waving to define "heritage".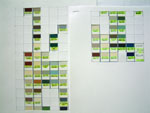 Even the paint colours that may be used in York Street are defined in a palette devoid of either artistic or historic justification. It is a disgrace and whoever is responsible should be held to account. It consists of every shade of mud and grey plus a couple of sickly yellows. It excludes colours academically researched and historically justified for Resenes. The HPT principles state that creating pseudo-historic buildings is discouraged yet York Street owners are forced into doing exactly that. We did our best with what little is allowed. That is all we can say.
Nor does the bureaucracy end there. The Department of Conservation must approve our plans for reasons that elude me entirely and managed to lose our request for a few weeks. The archaeological industry must be fed with reports on our site's history (as if Russell has not been endlessly researched already) but is placated with a payment to attend any diggings.

The road cone industry has to be satisfied, giving local lads toys to move to such imaginative places as the Town Hall roof. Eventually Council lawyers clip the ticket feeding the insurance industry a few thousand dollars in liability insurance premiums as a reward for our sheltering pedestrians from rain over two more square metres of Council footpath. The Fire Service must be paid for offering "no comment" on our sprinkler system design.
Nevertheless with expert guidance from our planner, Leonard Dissanyake, low cunning and bribing all the requisite authorities and busybodies as required by law we obtained our resource consent in mere months by the end of July 2009 - comparing well with years of unsuccessful efforts by some unfortunate neighbours.
However, this is mere preliminary skirmishing before the real paper warfare of the building consent can begin.
Building Consent
Following the leaky homes disaster compounded by, IMHO, incompetent interventions by our courts and politicians, New Zealand is now blessed with a vain and futile attempt to replace the millennia-old "buyer-beware" rule of markets by "government guaranteed" quality and durability. A disaster caused by bureaucratic and legal incompetence supposedly prevented by yet more bureaucracy and yet more legal entanglements. Leaky buildings continue to be built.
But now every last bolt, slat and dab of waterproof compound has to be bureaucratically vetted, authorised, specified, approved, installed, inspected and signed off. This is completely impractical when renovating an old building whose deposited plans are a mere sketch of what might have been built but actually wasn't or has since been altered. What is there isn't known until building alteration commences so neither is what needs to be done - yet supposedly all is documented and approved before work begins.

Otto and our engineer, Thijs Drupsteen, therefore begin the some three hundred pages of specifications and reports and twenty-five A2 pages of detailed plans and drawings necessary to apply for the building consent. Environmental Arts produced a landscape design. Thijs produced a fire safety report. Surveyors measured exact heights of existing ground and building points for Otto.
Finally, the Building Consent application could be submitted on 1st February, 2010. At the end of February we receive a response demanding further details. We respond within three days. A week later we receive an unconditional demand that we install a disabled-access toilet. This is a nightmare. The existing building is on two levels. Unless we put the toilet in the main gallery space we have to build a two metre long ramp through the new workshop to access the present staff toilet which would anyway have to be completely rebuilt. This is a small building for a small gallery usually staffed by its manager who lives on-site upstairs inaccessible to wheelchairs. Likewise the upper level gallery exhibition space. There is a public disabled-access toilet directly across the road. None of this matters. The bureaucracy has no functioning brain and is implacable.
We have no time to fight since we want to start building after Easter so Otto replaces the existing toilet in the workshop with a larger disabled-access toilet as configured by the bureaucracy. The building consent is approved on 16th March and arrives in my mail as a healthy 3.5 kg parcel of well-stamped paper.
Building

Our builder, Bruce Black, has drawn up an ambitious schedule to reopen the Gallery for Labour weekend. Originally, I wanted to do the job in two stages over two winters - the first building the new wing and the second linking and renovating the old building. Otto and Bruce convinced me this was impracticable because of the fundamental structure of the rebuilt garage that forms the link. In addition, I fail to persuade the owner of the rear property to allow us access so the existing garage (and framery) has to be demolished before the start to allow site access.

The good news is that now owner-occupiers of the adjacent property housing the "Back" 4-Square and "The Entrance", Andrew and Wendy, are a delight to deal with. At first all goes very well. Pat and I take the precaution of disappearing to see our families in Christchurch and Nelson while the building is emptied right after Easter. We return to find water tank excavation completed and blockwork progressing rapidly. The precast tank lid/floor slabs are lifted over the building and into place, ground floor poured and block firewall built.
Bad news arrives progressively. The foundations of the garage prove non-existent and those of the gallery walls not much better. Thijs devises solutions. Removal of interior walls reveals bizarre structures needing new beams and rot needing new wall framing. The gallery tiled floor is deemed to need replacement. Lifting the tiles reveals an unpleasant mess of cracked concrete. Various options and tests are resolved with a layer of fibre panels. The roof of the old building is inspected with scaffolding in place and determined to require replacement. That causes a revisiting of the plan to retain the existing colour scheme. Since the roof is being replaced we might as well paint everything from scratch so we choose a new scheme. The new gallery tiles we have chosen are coming from Italy and the factories are about to shut for summer and won't ship the tiles till September. The new gallery staircase installation is delayed until the retiling can be done.

Meanwhile the structural steel beams for the garage link area are in place and the upper floor timber structures are being built but progress is slow on the complex steep roof structures with their many tricky angles and intersections. The new wing follows the boundary at a 104 degree angle to the frontage creating a parallelogram shape that utilises space well but takes more time to build than simple rectangles. This delays the roofing which is then further delayed by various problems including unavailability of the roofing gang, several incorrect bends of the pavement awning by the factory and finally insufficient supply of the colour steel since the necessary "heritage" colour is non-standard.

We have decided to avoid the disabled-access ramp through the middle of the workroom by moving the toilet across the room to access it via the outside patio. That creates new problems for Otto - the conflicting bureaucratic demands that wheelchair access is via level or gentle slopes while external door openings have a 100 mm barrier to prevent water entry (the existing gallery street doors don't.) Once the toilet moves the existing toilet window makes no sense and must be filled in. Also we decide to fill in a window in the block wall that will mostly be behind the new staircase. Now the walls are gone we can see there is plenty of light without it. We also decide to relocate French doors from a demolished upstairs wall above the garage to the workroom and a double-sash window from another demolished wall upstairs to replace French doors in the upper Gallery which would otherwise hang in mid air above the new staircase.

Unfortunately the weather now breaks with the roof still incomplete and water eventually damages the loathsome chipboard floor of the upper gallery. We replace it completely with plywood. The building inspector is now getting very toey about all these changes so Otto prepares an omnibus collection of plan changes to submit for approval. I hold off on these till I am pretty sure there are no more changes in sight. I decide to change the planned garage door from wood to a steel overhead folding door to conserve space in what is a pretty tight fit for a modern car. Then we find the peculiar tall thin window in the workshop is rotten and I change it to match the other casement windows in that room.
By now relations with the inspector are getting fraught so we submit all these changes for approval to keep the bureaucracy fed and happy. It doesn't. Perhaps we have generated too much stress and there is a melt-down/bust-up in which I point out that I am paying full costs of the building department, ie their salaries, and therefore if time matters to me then it matters to them. I also tell them that if the Building Act is unworkable that is their problem, not mine, and their responsibility to fix it so get on with it. Things settle down again to a working relationship.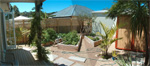 Rebuilding the garage has revealed that the planned fire exit route along the boundary beside it is an absolutely minimal 600mm width. Much thought goes into how to gate it successfully with no encroachment on the opening width or the adjacent building. Eventually the "obvious" solution of an angled steel frame is discovered and Otto and Thijs redesign the pavement awning slightly to make a nice entrance. Steve Hardcastle makes a beautiful job of the gate and we co-opt him to make the big display panels that will hang on the centre posts of the new gallery space. On the other side of the building Chad and his team from Environmental Arts have made a good job of new boundary fencing and pathwork to a cut-down relocated green wooden gate at the street. All the women complain about the colour. I leave it so they won't find something else to complain about.
The project is already behind schedule when the gib-stop team walks out on their first day after apparently objecting to using specified materials. That is a major problem as replacements are unavailable immediately and then only part-time. There is a lot of time-consuming work to do on the beautiful but complex ceilings in the new building. The tile delivery shipment is also late and the Labour weekend target is out of question.
Fire Sprinklers
In a parallel universe I had been battling the bureaucracy over fire sprinklers. This is a war I had fought before when restoring a century-old house at Bland Bay. At that time the Fire Service had not discovered its present zeal for residential fire sprinkler systems and was trying to impose commercial standards, bureaucracy and costs on my desire to protect all our hard work and an historic old kauri building from potential destruction.
Little wonder our schools continue to burn down unprotected. The system is clueless beyond belief and its insistence on gold-plated perfection or nothing simply results in lots of nothing.
Anyway, from the start of this project I had wanted to take advantage of the strip-out of the building to install fire sprinklers, but without paying a ridiculous price to do so. The project was designed to comply with all fire safety requirements without sprinklers and consented on that basis. As such it provided a completely separate fire alarm system supplied and maintained by Wormald. Therefore the installation of sprinklers was an optional addition for property security, like a burglar alarm, unnecessary to ensure either public or personal safety.
There endeth common sense and beginneth bureaucratic fantasy world. First we consulted the sprinkler system installers and suppliers. They were clear that we would need a building consent to install any sprinklers even though not required for fire safety. Ask your politician why - I see no reason. Also since this building had a part commercial designation they believed the sprinkler system would have to meet the commercial standard rather than just the residential one.
I was happy to install pipes and sprinkler heads to that standard but I balked at the supply and maintenance requirements. No way would I commit to the ongoing cost of independent testing of the system on a monthly basis for ever. Nor, as Russell is on tank water rather than "town supply", was I going to install a large water tank solely dedicated to the fire protection plus a large diesel-engine-driven water pump with automatic battery start. I wanted to share the water with the domestic supply and use an electric pump, albeit supplied through an independent switchboard, which would require no maintenance testing since it would be in common use.
We were referred to an independent fire sprinkler expert. He advised that no suitable standard existed at present for what I wanted to do but that "regulatory work was in progress on it." We commissioned a sprinkler designer to configure a piping and heads layout to cover the building to commercial standard. Meanwhile the building inspector advised us to abandon sprinklers as they would cause us far to much trouble, cost and delay. We went higher up the Council food chain for advice and met more negativity including the opinion that we might be allowed to put in the piping but would have to conceal or remove all sprinkler heads because otherwise the public might see them and think the system fully complied with the commercial standard! We considered concealment possibilities and imagined customers standing under an operating sprinkler mistakenly deluded that it was of Fire Service certified standard. Then we were advised we could apply to the Fire Service for an opinion. We did so and eventually received the stunningly uninformative response: "No comment". (Later, on challenging the $800 invoice for this nonsense we were informed that this was code for "Approved". Unfortunately no-one thought to give us the "Fire Service Bureaucratic Communication Codebook".)
We were near the point where it would be too late to install and absolutely on the brink of abandoning the effort when the engineer got a hint it was worth submitting a consent application for what we wanted despite everything. So we did and finally, in contradiction to everything we had previously been told, it was approved.

The system installation was efficient and apart from one alteration to a ceiling height required little other changes. Effort now had to go into the water supply for it. The design peak water demand of 450 litres per minute at 550 HPa was big, according to the pump suppliers. They proposed a small domestic pump augmented by a larger fire pump. When delivered it was clear that the "small" pump was large and the "large" pump was monstrous! Obviously the laundry could not share the small pump room as planned, so we moved the internal wall slightly and put the laundry on the other side of it.
Unhappily although I had specified only single phase power was available on site (due to the existing limited buried cable passing under the rear property behind us to Church Street) the large pump required three phase power. We therefore had to install a phase converter (motor-generator) to produce it.


The last challenge was to control the water and power supplies to the pumps. I designed a set of 24V sensors, relays and automatic valves which were installed by our electrician, Wolfgang, and pump supplier, Gavin. These manage the two water tanks, filling the lower one from the upper one and shut off each when empty. They also switch on the power supply to the large pump when the sprinklers activate and to assist inter-tank transfers. (In heavy rain there is a very large inflow into the top tank as the adjacent building roof also feeds into it.) If the sprinklers activate they also shut off the domestic supply. With a set of LEDs on a schematic showing what is on and off the control box is quite impressive and even works - so far so good.
Finishing
Nearing the end of October another deadline loomed large. The entire contents of the building had been moved into our holiday house, Terracotta Gardens , and at the beginning of December our summer bookings started. We had to get the house cleared out and set up by then for our first guests. The workroom was now carpeted and finished and the lower gallery space tiled with the ceiling and lighting being finished. We cleared the entire lower floor of Terracotta Gardens moving all the framery equipment, furniture and supplies back into the new workroom and upstairs gallery. Janet and Matt then had to re-adapt the work benches and storage cabinets assisted by the builders - a significant task.
Meanwhile the work on the upper residence was progressing but far from complete, particularly the gib-stopping and painting of the exposed beam ceiling which was very time-consuming. The bathroom furniture I had chosen fitted the room layout but the spaces didn't work for humans so we had to rearrange it. The kitchen was tweaked and extended a little into the dining room. A rangehood was added. A series of natural air vents was added. The carpet was due to be installed on November 20th which the team wanted to delay but I refused and asked them to focus on finishing the carpeted areas - bedroom, stairwell, lounge and study.
At this point Roz had a horrible accident. While helping prepare painting surfaces and descending a ladder she missed the step and fell on the floor badly injuring her back. We were all mortified that this should happen on our project - the only serious injury we have ever had on all our jobs. When I saw her at Kawakawa hospital the next day before she went home to Whangarei heads for a long recuperation she was bravely optimistic and even worried about disrupting the project - which made me feel even worse. However, we were delighted to see her after Christmas up on her feet, albeit stiffly, back in Russell and were able to show her around the (almost) finished building.
We duly carpeted all except the stairwell by the last week of November and were able to free up Terracotta Gardens in time for our incoming guests by returning most of the remaining furniture and materials to storage in the bedroom and the downstairs storeroom/laundry of the new wing. With the kind assistance of Moojebing, Janet and some remaining items were able to move temporarily out there.

Christmas loomed like an oncoming train. We had enlisted Troy to complete the exterior painting while Tim and Holger tracked the gib-stoppers working long hours to finally finish the ceilings, walls and stairwell upstairs. New hanging tracks were ordered for the gallery and the display panels installed. Upstairs lighting and power was installed and the kitchen completed bar the benchtop fabrication. Chad and Environmental Arts finished a beautiful garden and pathways with an instant lawn which fortunately coincided with a breaking of the drought experienced since September - ironically, since the roof was finished.
Bruce and Andy completed the gallery stairs with a temporary handrail in place to bring the building to the point where the building inspector could issue written approval to reopen the business - a critical mchievement. With some temporary connections, phone and computer links were set up and the shop desk installed under stairs complete bar a final complex bit of twisty handrail. After Christmas Bruce and Lesley sanded and polyurethaned the stairs.

With dust and machinery out of the way Janet was finally able to set out her artwork and reopen for business straight after New Year as she continued setting up.
Wrap-up

So the project has taken longer than we planned and longer than we were comfortable with. But the result is much better and far more dramatic than we imagined at the outset. It has not been just an addition to the building, but an entire transformation of it. The new spaces, inside and out, have wonderful, fresh, open and peaceful atmospheres. The old and new complement each other gracefully and merge gently. Land spaces that used to be derelict are now both useful, practical and delightful. Nothing remains out of place, clashing or "undone".

How was this achieved? First, through Otto's vision and knowledge of space and light which created the framework to build on. Second, by continual adaptation and adjustment throughout the project some of which I have detailed here. This process has been well described by the American architect, Christopher Alexander, in a series of books worth reading for anyone interested in making beautiful buildings - or see the website: patternlanguage.com. Our present mechanistically-focused, pre-planned, bureaucratically-controlled building process completely fails even to comprehend, let alone accommodate, this need for adaptation, feedback, refinement and modification. The inevitable result is bad buildings, poorly adapted to the subtleties of their surroundings, their natural environment and the needs of their inhabitants.
This is the reason I treat the demands of our building bureaucracy process with considerable contempt and disregard - otherwise it will severely damage what you want to achieve.
Small-town gossip is sometimes quicker to assign blame than credit. So any blame to be assigned belongs to me, the guy in charge who called the shots on all of the extra, unplanned things that we wound up doing over the last nine months. And the credit should go to all the many people who worked on this job with their brains, skills and effort to produce these beautiful things and places for us all to enjoy for many years to come. Especially to Otto for inspiring them and to Bruce for co-ordinating them and dealing with all its challenges.
As it began life, our gallery building remains built by and for artists of all kinds, and for Russell residents and visitors to enjoy.
All credit and thanks for the great result to:
Architect: Otto Suri
Builder: Bruce Black
Engineer: Thijs Drupsteen
Painter: Tim Beattie
Planner: Leonard Dissanayake
Electrician: Wolfgang Harder
Landscaping: Environmental Arts
Plumber: Jeremy Nodder
Plasterer: Craig Simmonds
Blocklayer: Paul Buckley & Eric Inder
Tiler: Dave Neal
... plus drainlayer, roofer, carpet layer, Northland Pumps, ... and all their helpers and suppliers.